Traditional individual Yoga teaching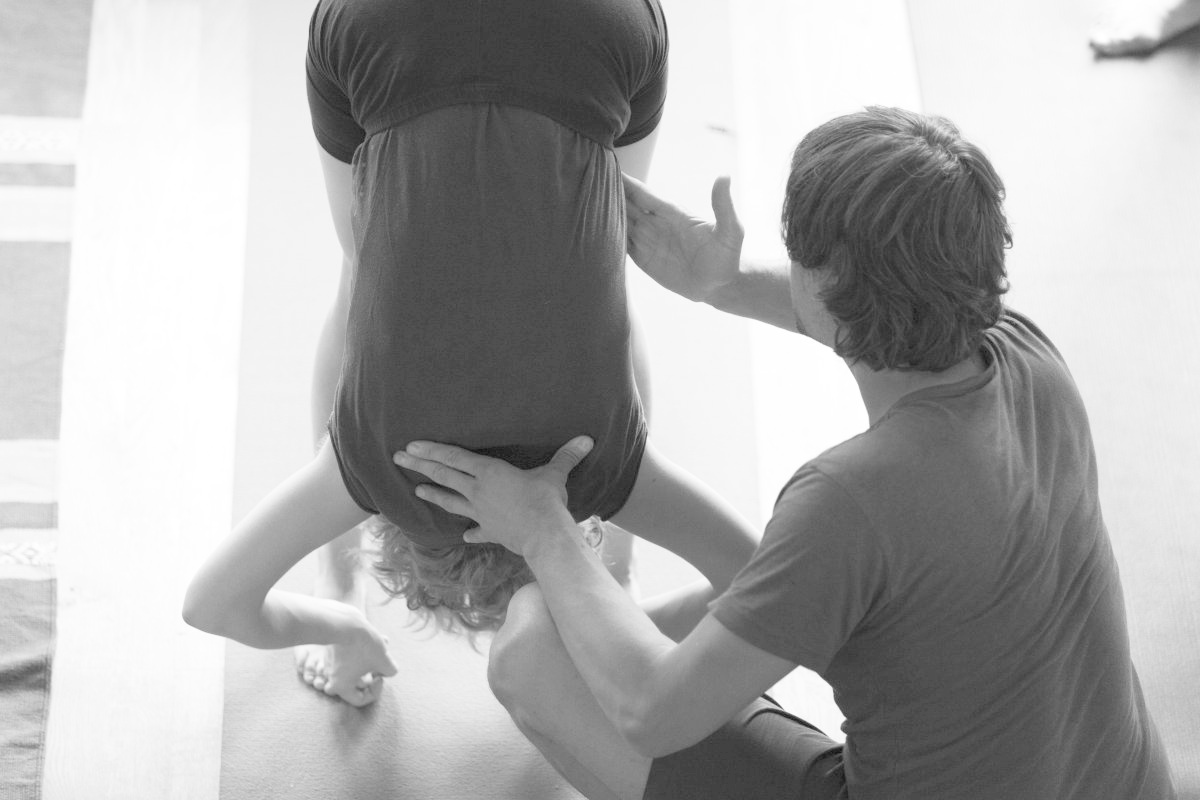 We teach advanced traditional Ashtanga Vinyasa Yoga in the tradition of Shri K. Pattabhi Jois with the magic touch of Richard Freeman's internal alignment principles.
Our teachers speak English in all classes and every student is instructed individually in small groups. After just a few days you will know how to truly practice Yoga with focus on your own breath and internal alignment. Let's take your practice to new levels and leave the boredom of led classes behind!
Start your Ashtanga journey
Ashtanga is known as the most advanced Hatha Yoga method because it is taught in a very sophisticated methodological step by step approach.
Get a taste for the intensity of the practice in our Ashtanga Flow Class (Sunday 4pm) or our Ashtanga Introduction Workshop (Datum nächster Grundlagenworkshop).
Or just dive into the real thing and roll up for our Ashtanga introduction month.
Come Practice with us!
Due to our individual teaching method all our classes are open for English speakers!
I already practice Ashtanga Vinyasa Yoga...
If you are familiar with Ashtanga Mysore Style you can come by any time. We all speak English and provide a mat for you. If you don't know the series please contact us first.
Have you ever had questions that your teacher wouldn't answer? Do you wonder if just learning more and more postures will ever lead you to enlightenment? Have you had pains in your practice or even suffered from too strong or other inadequate adjustments?
We have experienced all this and chosen a different path. Just come by, you will love Ashtanga Yoga Berlin!
I am new to the Ashtanga Vinyasa method...
We teach individual Ashtanga Yoga and speak English in all classes every single day.
You need to decide if
you want to learn Yoga the traditional way and stay in Berlin for at least a few months?
Read our beginners page.
you are just visiting or not ready to commit for the introduction month?
Come to our Ashtanga Flow Class (Sunday afternoon) or the next Ashtanga Intro Workshop.

What is special about "Mysore Style" teaching?
Mysore style is an entirely different teaching paradigm. We always instruct individually and never address the whole group of students.
All postures and sequences are given to you step by step with individual instructions. This way you will easily remember and develop an individual practice from the first day.
We speak as little as possible and as much as necessary – always exactly what _you_ need, not any of your neighbors. Yoga practice should be quiet and concentrated and not an entertainment program.
What is Ashtanga Vinyasa Yoga?
Ashtanga Yoga is a traditional, physically ntense and intelligent Hatha Yoga method from South India.
According to Yoga Sutra (~ 400 BCE) it leads the student into deep concentrated states of mind.
Ashtanga must be taught methodologically in Mysore Style by experienced teachers.
What do I need?
You just need comfortable clothes. If you don't have your own Yoga mat you can use one of ours until you may want to buy your own.
Regular students can leave their private mats in the studio free of charge.
It is recommended not to eat directly before the practice (normally at least 2-4 hours).
Pricing
We are offering various inexpensive options, from short term visitor cards to regular memberships. Our memberships start at 50 € per month.
Since Ashtanga Vinasa Yoga is ideally practiced in the mornings, we especially recommend our unlimited morning and lunchtime classes membership for only 90 € per month.
Please check out our pricing page and contact us if you need more information!